Enchanted Forest
Enjoy time in Portland or Seaside on your Graduation!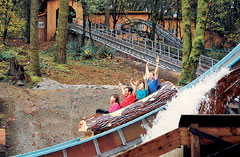 Enchanted Forest is a beautiful theme park built in the lush Oregon forest. Here you'll find a world of fantasy as your favorite storybook tales come to life on Storybook Lane. Crawl through Alice in Wonderland's rabbit hole to be left to find your way through a maze, slide down the Old Lady who lived in a shoe's slide or try to keep your blance in the crooked man's house. Western Town is were the old west comes alive. There is a shooting gallery, pan for gold and explore Fort Fearless and the underground tunnels and secret passageways of the Indian Caves. Enchanted Forest rides include Big Timber Log Ride, the biggest log ride in the northwest, the Ice Mountain Bobsleds roller coaster, Mondor's Challenge dark ride
Want Something Different? Call Your personal expert: Tammy at (530) 277-7146 or
tammy@safeandsobertours.com
to Design YOUR custom trip!