Heavenly Valley, USA
For the class that has adventure and loves Nature!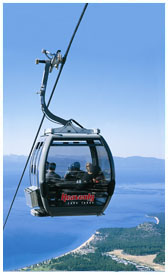 Located one-half block west of Stateline, the Gondola is steps from most major lodging facilities, and puts the serenity of an alpine mountain. The eight-passenger cabins take guests 2.4 miles up the mountain in 12 minutes while they enjoy views of Lake Tahoe.
Just when it seems the ride can't get any better, guests arrive at The Deck - a 14,000 square foot mid-station observation platform. Located at 9,123 feet, guests are treated to views of the Carson Valley, Desolation Wilderness and shore-to-shore views of Lake Tahoe.
After soaking in the views on The Deck, sightseers can head to Adventure Peak for a day of mountain fun, then enjoy a meal or grab a drink at the Adventure Peak Grill, a full-service, outdoor restaurant and bar.
Want Something Different? Call Your personal expert: Tammy at (530) 277-7146 or
tammy@safeandsobertours.com
to Design YOUR custom trip!