Lava Hot Springs
There is no place unique than Coeur d'Alene, Idaho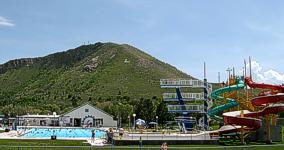 Lava's Hot Pools Relax in our World Famous Natural Hot Springs Year Round!

Our Hot Pools are perfect for soaking your sore muscles after an exciting day of playing at Lava Hot Springs! Jump off diving towers, ride our water slides and swim at our Olympic Swimming Pool!

The Swimming Complex features two Water Slides, 7 Diving Boards and 3 Diving Platforms. Our 25 yard pool is now enclosed and will be open year round!
Want Something Different? Call Your personal expert: Tammy at (530) 277-7146 or
tammy@safeandsobertours.com
to Design YOUR custom trip!